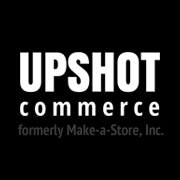 Upshot Commerce & Inspire Commerce™ are proud to work together to offer your business the highest quality e-commerce services.
Upshot Commerce, (formerly Make-a-Store) is a unified, complete, end-to-end solution. The Upshot Platform provides a suite of enterprise-ready features to start or migrate your cross channel, convergent commerce efforts. We are a cost effective solution that won't break the bank like other ecommerce solutions available. The Upshot Commerce solution is a cloud-based, fully scalable set of tools that was created and continues to evolve with the needs of both the business leader and and consumer in mind.
Please fill out the form below.  We'll be in touch shortly.