Every business operating an online store needs a payment gateway. The payment gateway acts as the communication between your shopping cart and your merchant account. A merchant account is required to accept customer payments.
Inspire has been helping merchants automate their online businesses since 2008.  The company has had deep ties with some of the internet's best shopping carts including an industry leading payment module for WooCommerce, Magento, and Upshot Commerce.  Beyond these, the company integrates and works with hundreds of companies through both Inspire Gateway and Authorize.net.

      Inspire Commerce .pay™ Gateway
The Inspire Commerce .pay™ Gateway provides you with the ability to accept all major credit cards and eChecks directly from your website into your merchant account.  With the .pay™ Gateway, you'll receive complete customer and technical support for your online processing.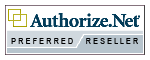 Authorize.net
We are proud to offer online payments through our partner, Authorize.Net®. Authorize.Net manages the complex routing of transaction data from your business to the credit card and electronic check payment processing networks, ensuring secure and reliable deposit of funds into your account.